Alpro
Stand: C11
Dairy and Dairy Alternatives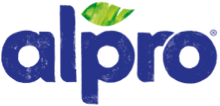 At Alpro, we say, there's never been a better time to join the plant-based movement. Doing your bit one bite (or sip) at a time.
Alpro's mission is to bring health through food to as many people as possible because we believe the world's a great place. And we'd like to keep it that way. We're leading the change in our One Planet Thinking, which means looking at great things like energy efficiency, biodiversity projects, water risk assessments and the production of bio-based cartons. Plus, plant-based foods are better for the planet because they use less natural resources. Yasss! All hail plant power.
We also know that being healthy can be tricky and that pesky old habits die hard, so we're here to help people who want change with our delicious plant-based foods. We're all about cheerleading life's triers, because any step – big or small – is a positive step in the right direction. Progress is progress – and that's something we've believed in ever since we became the plant-based pioneers back in the 1980s.